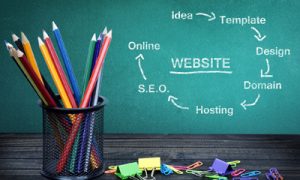 Part of creating a successful online presence is a well-developed and designed responsive website. With more and more people turning to the web to find services and products, a website is a must for a small business to expand their clientele. Our team at Valpak of Central Ohio will create your business a website that follows current web design trends, best practices, and follows your business' branding. We strive to create you a website that will accurately reflect what your business provides while also including keyword rich content to improve your SEO and search engine ranking.
All of the websites we create are responsive, meaning that they will adapt to fit all major mobile devices and tablets. A responsive website will rank higher in mobile search results and since more people are searching for services away from their desktop computers, a responsive website is key to a successful online marketing strategy. Even if you already have a website for your small business and it is not responsive, a new responsive design is a great investment for your business.
If you have a domain name registered, you can keep it! With Valpak of Central Ohio, we will use your existing domain name or register you a brand new one if needed. You will have comprehensive support through every step of the process, from setting up branded emails to choosing the perfect layout for your business' online presence, our team has got you covered. We will handle all of the work so you can focus on what you do best, running your business! Contact us to learn more about our website packages and what our team can do for you today!
INTERESTED IN ONE OF OUR SERVICES?