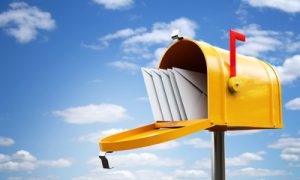 Valpak is well known throughout many communities through our direct mail program, many households receiving our recognizable Blue Envelope in the mail regularly.  As an independent Valpak franchise, Valpak of Central Ohio offers a variety of direct mail programs including loyalty cards, full page and half page ads, selective targeting, and much more, all inside of Valpak's famous Blue Envelope of coupons and offers. We are continuously researching new direct mail methods, from new design layouts for coupons to flyers, unique codes on each ad, unique url address for tracking, call tracking numbers, and much, much more.  Our team will help your build your consumer reach and boost your bottom line through targeted direct mail strategies.  Learn more about our direct mail programs by getting started with Valpak of Central Ohio today!
View Direct Mailer Information
On Pak
Your business will occupy a prime position within the Blue Envelope with a featured call-to-action for the premium offer consumers will find for your business inside.

Flyers
People tend to keep flyers that have menus or a variety of coupons that expire at different dates.  We offer a variety of flyers for you to choose from to help keep your customers engaged with your business long after they initially receive the Valpak Blue Envelope.

Cardstock
The type of paper your coupons are printed on can set your business apart from others simply by its texture and thickness.  Stand out from the competition by choosing one of our various paper weights to have your coupons printed on!

Circulars
Use our circular program to add more information to your direct mailer than what is offered by our 6-panel insert.  We have an 8, 12, or 16-page option to enhance your direct mail campaign.  Each will be trimmed and folded before being placed into our Blue Envelope.

Newsletters
Newsletters are a perfect way to keep your customers and potential customers informed about your business.  Whether you need to share news, or a special offer, a newsletter is a great addition to any direct mail campaign.

Performance Tracking
All of our direct mail pieces utilize state-of-the-art tracking technology to ensure you are reaching as many customers as possible.  Performance tracking will allow you to find new customers, determine what drives your target audience and what leads them to make a purchase or book a service.
INTERESTED IN ONE OF OUR SERVICES?